Should you even be writing cold emails? Well the statistics say yes. Email usage is going to increase by almost a Billion users by 2022 and the ROI is great. For every $1 you spend on email marketing, you get a whopping $32 back! That number is strangely $49 for direct mail in comparison, but pushing a button takes significantly less effort than designing and sending out a physical mail piece. So what mistakes should you avoid if you want to cash in on the email action?
Subject Titles That Bore
Here's a recent email I got:
Subject: 7 Savvy Steps
Good morning Chala
I hope you had a wonderful weekend are enjoying the summer.

I thought you may appreciate my – 7 SAVVY TIPS TO ORGANIZE YOUR x.

My Facebook live from June has over 2.4k views!! If you haven't had a chance to see it – take a look! It was a lot of fun and filled with great info.

Here's our video link. (live link)

Looking forward to being in touch

Thank you.

All the best.
What's wrong with this very nice woman sending me such such a valuable email? Well it starts with a boring subject title. For example, putting a person's name in the subject title get 50% higher open rates. Another thing that's wrong with the title is that it's not about me. How about if she said something like '7 Savvy Steps that Coaches Use To Save Money'. Something that tells me she did some research about me and what I do.
Look-At-Me-Marketing
When I open the email and I see the word 'I' used way more than 'you', I can already tell that it's a cold email gone wrong. Again, it's not about you. I care about me. Now, including videos is a great idea. They increase click rates by 300%!!! So what beef do I have with this video? The content isn't relevant to me or my pain. I mean it's wonderful that it got so many views on Facebook but again, if you're not going to show me how to do the same, how is that relevant to my success?
Best Cold Emails
The first step, of course is to make sure to warm up the emails. Ie. make sure you're emailing someone you've met or have something in common with. For example, someone you met while networking or someone you belong to the same Association with. Then, send something of high value customized to the person you're sending it to.Here's one sent by my main squeeze www.shirtlesswebguy.com whose brand and marketing plan I created. Here's a screen capture of what we are sending out to prospects he has met in networking meetings.
From: Sacha Darosa <sacha@shirtlesswebguy.com>
Date: Mon, Jul 8, 2019 at 2:52 PM
Subject: Look what you made me do
To: <andrew@b.com>
Andrew,
I happened to have picked up your card at this week's BNI meeting. I went and did a whole report on your website. I hope it helps you convert more visitors into leads. I'll be following up within a week to see if you have any questions and if anything resounds, we can chat.
https://calendly.com/sacha-darosa/exploratory-web-call?month=2019-07
By the way, I hope it's ok that I'm including you in my list of friends and fans who will get news from me every now and again.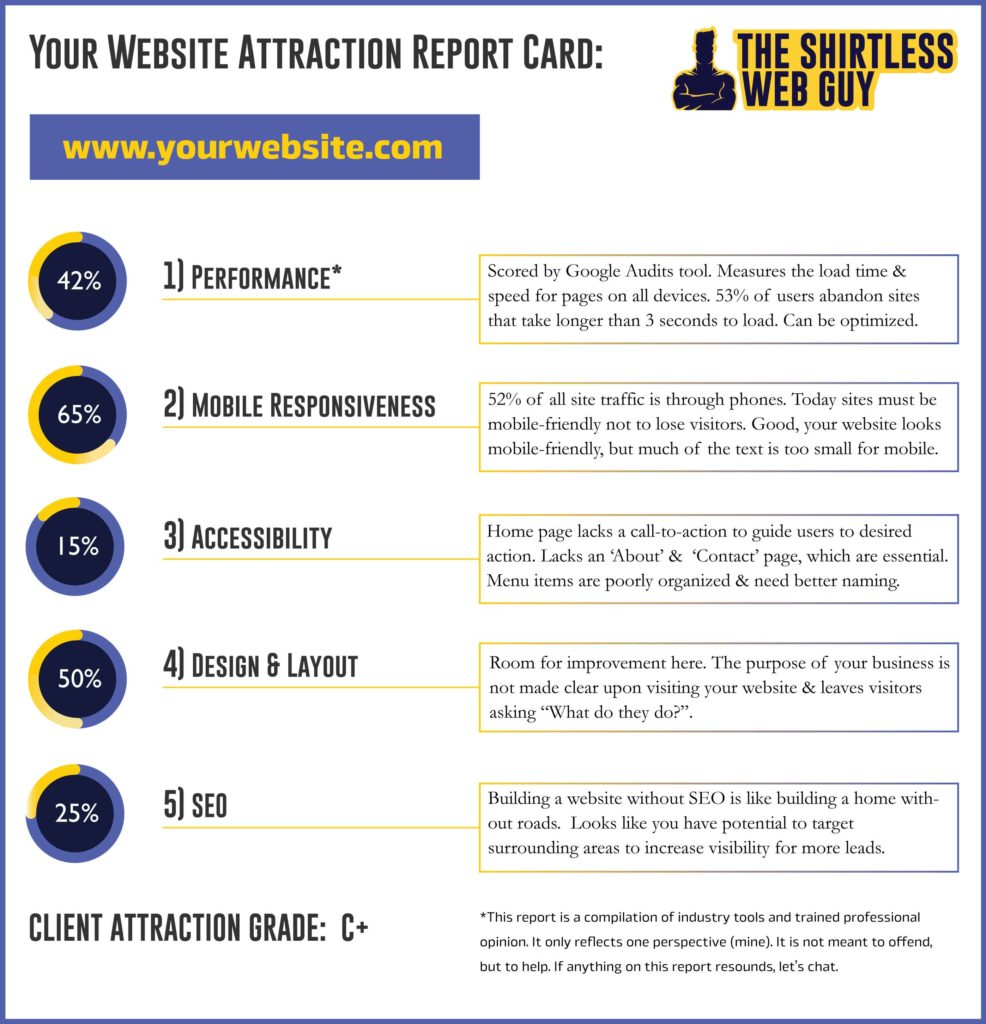 Best,Sacha

Sacha Darosa
Web Development and SEO

Websites that stand out

The Shirtless Web Guy
So, go ahead and put your cold email skills to the test. First warm up your email and then personalize it. Then strike the killer strike and call them to check if they found what you sent valuable. Then engage and sell.
Want to reposition your messaging to grow your leads? Follow me on Twitter, friend me on Facebook, watch me on YouTube or connect with me on LinkedIn –and let's talk